Proclaiming the Gospel Message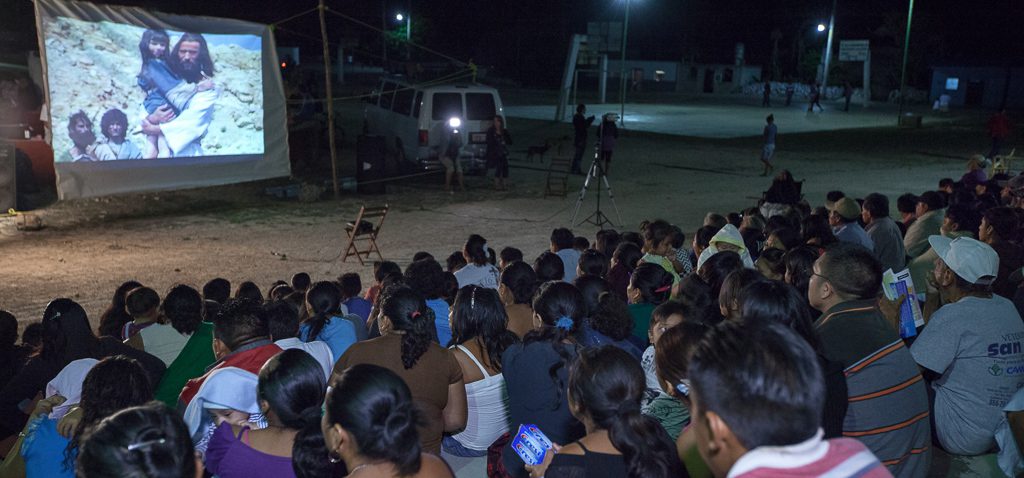 The truth of the gospel is best understood when shared in a person's heart language–the language they learned as a child on their mother's knee and the language they speak at home. But because Mayan villagers often have limited education and some don't read or speak Spanish well, The Message for Mayans primary tool for evangelism is the film "Jesus" translated into Maya. Film powerfully brings the story of Jesus to life in ways that the people can understand. As they see Jesus on the screen and listen to Him speak their own language, the life changing message of the gospel penetrates their hearts. They know He can be their God too.
The Yucatán Peninsula separates the Gulf of Mexico from the Caribbean Sea, encompassing 3 Mexican states: Yucatán, Quintana Roo and Campeche.
The peninsula, well known for tropical rainforests and jungles, is home to over 800,000 indigenous Mayan people. Although some reside in large cities like Mérida and Valladolid, a large number live in remote or isolated villages. With simple lives that are sustained through farming or by selling handcrafted items, only villagers with transportation are able to leave their village to work. The language spoken at home is "Maya".
God loves the Mayan people and He has certainly not forgotten them! The Message for Mayans is committed to spreading the gospel of Jesus throughout Mexico's Yucatán Peninsula, village by village. Our teams are working with local pastors, training and equipping them to plant churches and send missionaries. By God's grace and enabling, our goals are to share the good news of Jesus in every Mayan village and to plant 800 new churches.
The Message for Mayans is following a church planting curriculum to train our own volunteers, pastors and local missionaries to plant new churches so that each village will have a thriving community of believers who are growing in their relationship with Jesus and actively reaching out to others. Jesus Film Project has graciously provided free resources to equip pastors and missionaries who attend church planting trainings.
Every village is important to God regardless of the size. We're keeping track of where we've been and where we need to go next. Some villages are only accessible by foot and our teams are not always welcomed. We're relying on God's power, prayer and the Holy Spirit to direct our steps. Only He can open doors that no man can shut. Through a growing network of committed believers, we're building momentum and multiplying impact that results when God's people work in unity.